Continuing the preparations for HAWAEXPO 2024, the largest nationally endorsed exhibition of the Wood & Handicraft industry in Vietnam, the Organizing Committee cordially invites esteemed businesses to attend the HAWAEXPO PRESHOW event.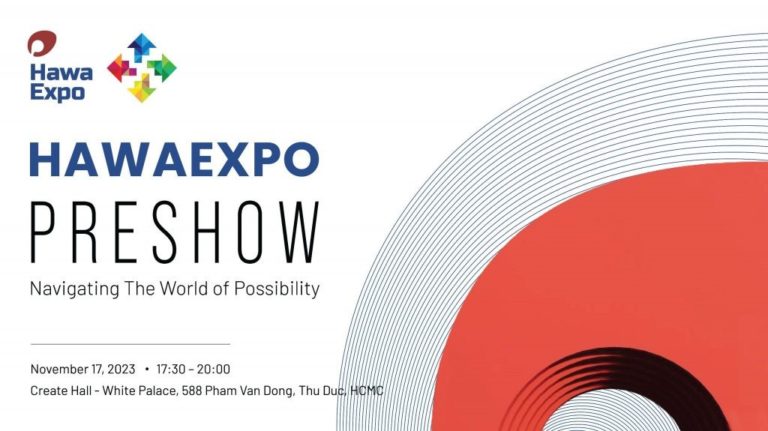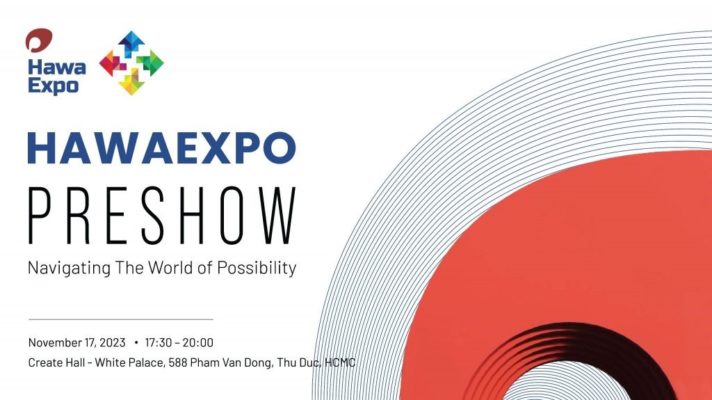 Time: 17:30 on November 17, 2023.
Venue: White Palace (Creative Hall) – 588 Pham Van Dong, Thu Duc, Ho Chi Minh City.
At the event, esteemed participants will have the opportunity to:
Grasp the furniture purchasing trends of various countries shared by distinguished guests who are prominent global buyers.
Gain insights into the creative design movement in Vietnam, highlighting creative figures & inspiration.
Discover the new aspects and seize opportunities created for businesses from two new locations of HawaExpo 2024: Creative Hall (White Palace) and Craft Hall (WTC).
Stay updated on the preparations for HawaExpo 2024 from the Organizing Committee and exhibitors.
Not to miss the latest information on the Vietnam Outdoor Lifestyle Fair (Q-FAIR) following HawaExpo next year.
Expand networking opportunities, fostering connections among industry businesses.
Participants:
Exhibitors reserving booths at HawaExpo 2024.
Or businesses working in the Wood & Handicraft industry seeking industry updates. Priority is given to members of the 5 member associations of Viforest Fair.
Number of registrations: 1 Representative/1 Business participating
📌Note: When attending the event, your business is kindly requested to issue invitation tickets at the check-in counter.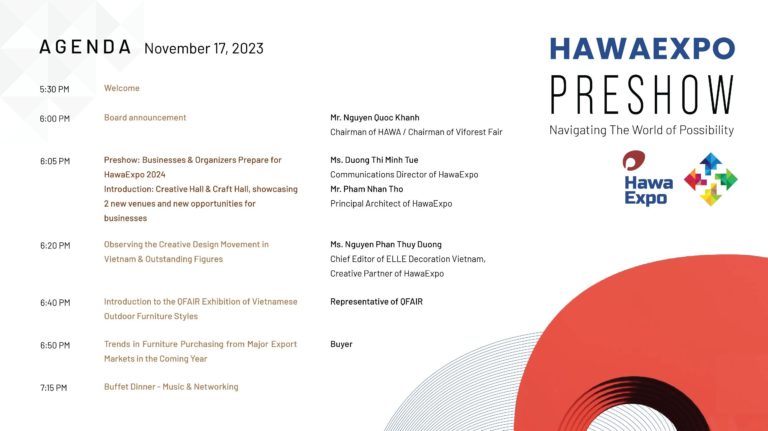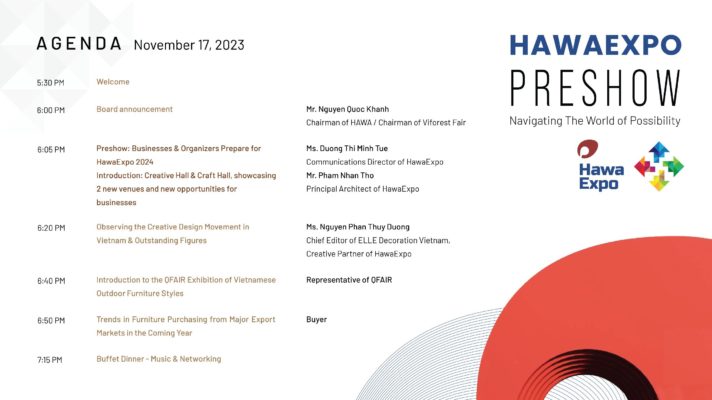 Register now at: https://forms.gle/wqENvgkTE2iQmQaA6
☎️Hotline +84 902 507 770 I [email protected]