HawaExpo 2024 is Vietnam's largest export furniture fair, organized by VIFOREST FAIR, a consortium of five associations including Viforest, HAWA, BIFA, DOWA, and FPA Binh Dinh. The expo is directly run by HAWA, which is part of the VIFOREST FAIR company, illustrating its key role in the execution of this substantial event.
HawaExpo 2024 will bring together over 700 enterprises in the field of wood and furniture production and export, as well as handicrafts from Vietnam, promising to welcome 30,000 visitors from 200 countries along with an impressive global marketing campaign.
At HawaExpo 2024, attendees can expect a wide array of Made-in-Vietnam products, meticulously organized into the following categories: Furniture & Furnishing, Interior Design & Contract Furniture, Gift & Handicraft, Material & Hardware, and Home Accessories.
This broad selection offers solutions for a variety of industry needs – from residential to commercial and everything in between. For those buyers gearing up to engage in this premier event, this article serves as a comprehensive Vietnam furniture expo guide, ensuring a beneficial experience.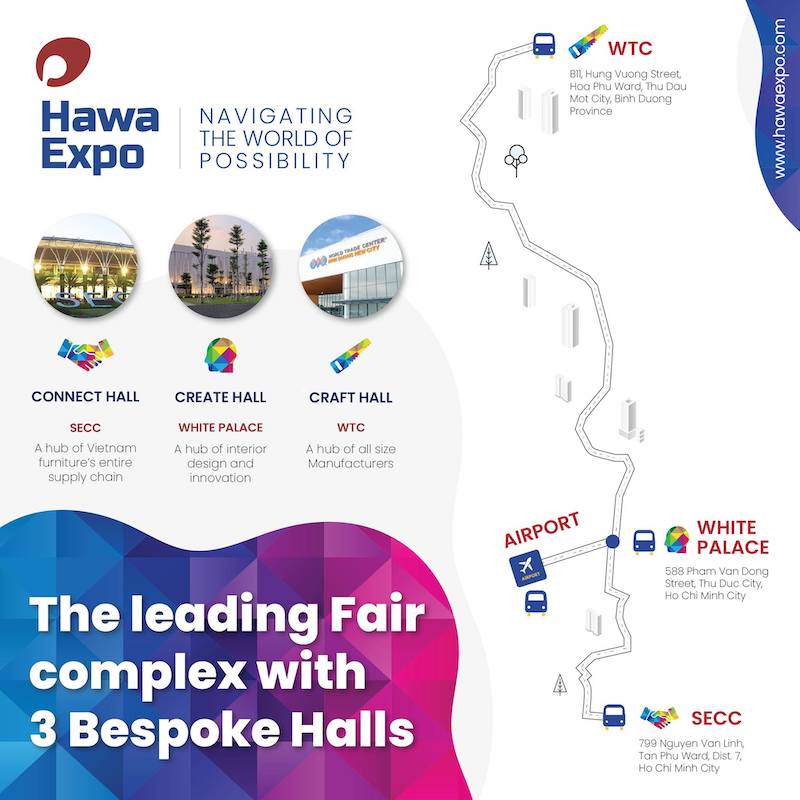 Section 1: Preparation
Detailed and comprehensive information regarding preparations for attending the exhibition will be presented below.
Schedule and Venue Information
HawaExpo 2024, the largest nationally endorsed export furniture fair in Vietnam, is strategically situated across two dynamic areas – Ho Chi Minh City and Binh Duong.
The diversity of the Wood & Furniture industry is exemplified through three uniquely designed hubs.
Connect Hall
Connect Hall is considered a focal point showcasing the comprehensive capabilities of Vietnam's wood export supply chain.
Date: 6th – 9th March 2024
Location: SECC Conference and Exhibition Center, Ho Chi Minh City – 799 Nguyen Van Linh, Tan Phu Ward, Dist. 7, Ho Chi Minh City, Vietnam
Create Hall
Create Hall focuses on presenting creative and unique wood products from Vietnamese enterprises. It's an ideal venue for Vietnamese wood businesses to introduce their innovative products to both domestic and international partners
Date: 7th – 9th March 2024
Location: White Palace Event and Exhibition Center – 588 Pham Van Dong Street, Thu Duc City, Ho Chi Minh City
Craft Hall
Craft Hall focuses on presenting artisanal woodcraft products from Vietnamese enterprises. This area is an ideal venue for Vietnamese wood businesses to showcase their artisanal crafts to both domestic and international partners.
Date: 7th – 9th March 2024
Location: WTC Expo International Exhibition Center – B11 Hung Vuong, Hoa Phu Ward, Thu Dau Mot, Binh Duong
This multi location structure, both robust and all-encompassing, mirrors the Wood & Furniture industry's significant progression, creating a multidimensional commercial platform in Vietnam's leading economic and industrial hotspots.
Guidelines for buyers on how to register for the event
Buyers interested in attending the HawaExpo 2024 can register for free using the following steps:
Step 1: Visit the HawaExpo 2024 website and click on the "Visit" button.
Step 2: Complete the registration form as shown.
Step 3: Once completed, click the "Submit" button.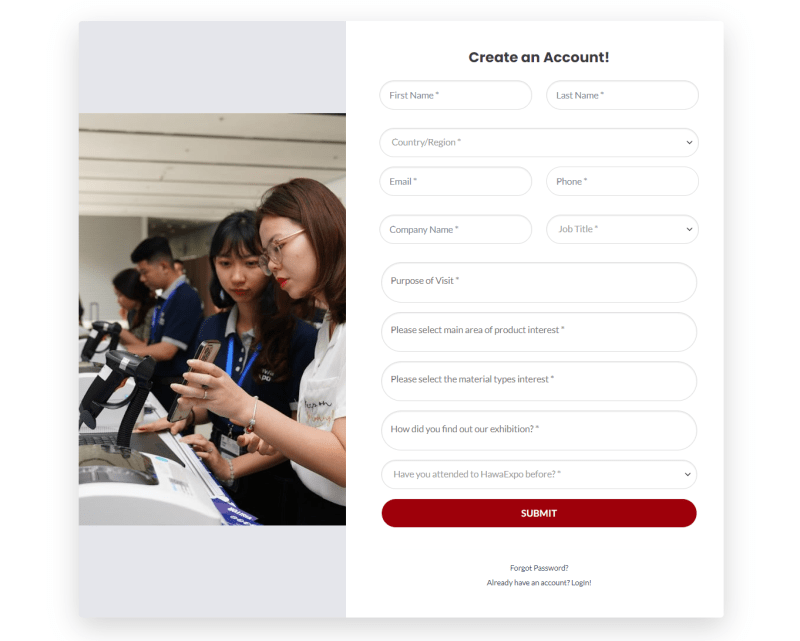 Upon successful registration, buyers will receive a confirmation email from the organizers. Buyers are required to print this confirmation and bring it to the expo to receive their visitor pass.
Additionally, buyers can also register for the expo through agents representing HawaExpo 2024.
Participation fee
Admission to the fair is free of charge. Although walk-ins are welcome, online pre-registration is highly encouraged. Online registrants have the advantage of receiving important updates and early suggestions relevant to the market. This free registration offer applies until March 5th. Plan your visit in advance and make the most out of your HawaExpo 2024 experience.
Section 2: Attendance
Below are some useful tips and advice to help you attend the exhibition effectively.
Guidelines for getting to the exhibition
To attend the HawaExpo 2024, you need to arrive at Tan Son Nhat Airport (SGN, Vietnam). From the airport, you can travel to SECC by taxi (it's recommended to use Mai Linh or Vinasun taxi companies) or Grab car. At the SECC, there are complimentary shuttle bus services to other venues such as White Palace or WTC. (The shuttle schedule will be updated as soon as possible. Alternatively, please contact us for more information)
Note:
You should pre-book a taxi or Grab car to avoid extended wait times.
It's advisable to have cash on hand or a credit card ready for payment when traveling by taxi.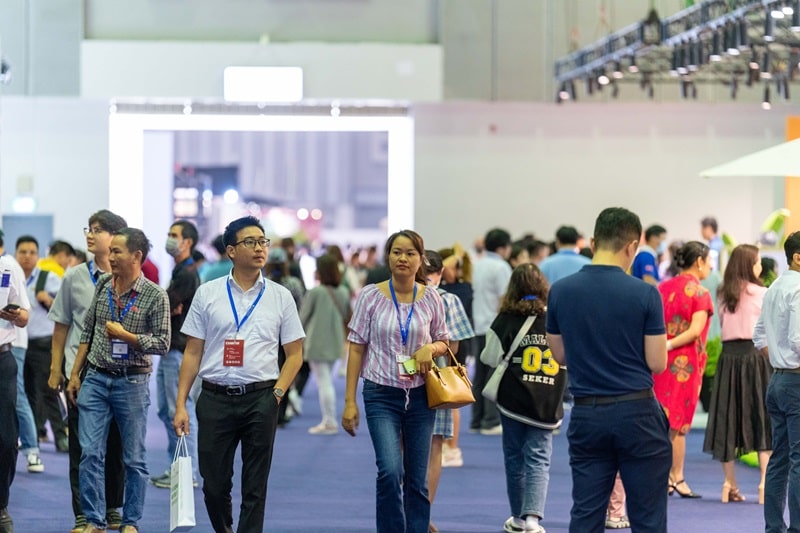 How to locate the booths
You can preview the floor plan and the list of exhibitors to prepare for your visit here
Tips for Communicating with Exhibitors to Maximize Business Opportunities
HawaExpo 2024, a central event in the Vietnam furniture expo guide, showcases exhibitors from all over the globe. If you're planning to attend and seek to optimize business opportunities, consider the following strategies:
1. Pre-Expo Research
Leverage the Vietnam furniture expo guide to delve into the profiles of participating exhibitors. Review the HawaExpo website, exhibitor-specific sites, and their social media to understand their product range, services, and what they're looking for.
2. Business Cards & Brochures
A staple in any Vietnam furniture expo guide is the emphasis on the importance of business cards and promotional materials. Ensure you have ample, high-quality business cards and brochures detailing your company's offerings, as they serve as a vital touchpoint for post-expo communication.
3. Engage with Assurance
While visiting booths, exude confidence in your approach. Use the knowledge you've gained from the Vietnam furniture expo guide to initiate conversations, express genuine interest, and delve deep with pertinent questions.
4. Active Listening & Retention
One of the essential skills emphasized in the Vietnam furniture expo guide is active listening. Capture crucial points from your conversations to tailor future engagements effectively.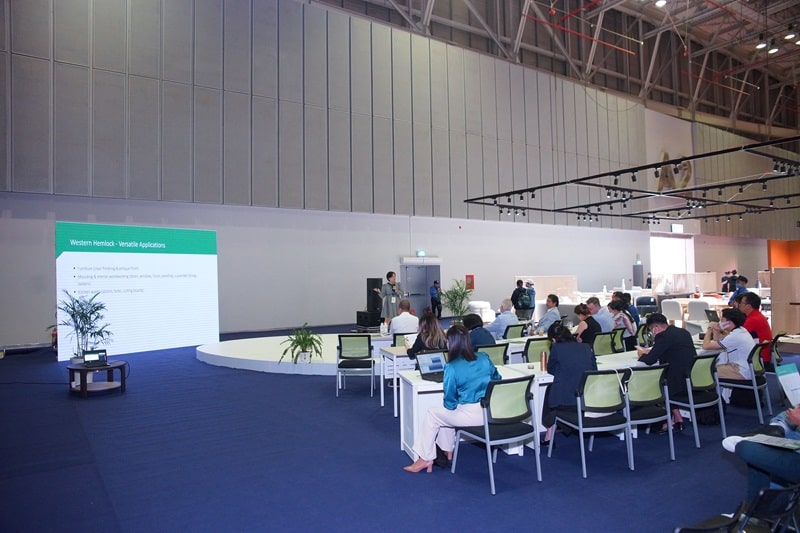 5. Prepared Queries
Before immersing yourself in the expo, list down specific questions grounded in your research. Your preparation will help in eliciting valuable information from exhibitors.
6. Professional Closure
As you wrap up discussions, extend your gratitude for their time and attention. Don't forget to exchange contacts, keeping the door open for future collaborations.
7. Following Up with Exhibitors After the Expo
After the expo, it's essential to follow up with the exhibitors you're interested in. Consider sending an email or making a phone call to thank them for their time. This is also an opportune moment to discuss potential collaboration opportunities.
By following this refined Vietnam furniture expo guide, you're poised to make the most of your time at HawaExpo 2024, fostering valuable connections and potential business partnerships.
In conclusion, following this ` and its recommendations ensures that buyers can optimize their experience at HawaExpo 2024. This allows them to establish meaningful connections and tap into promising business partnership opportunities. To be a part of this premier event, buyers should pre-register online via this link (https://www.hawaexpo.com/)
HAWAEXPO 2024 – THE LARGEST NATIONALLY ENDORSED EXPORT FURNITURE FAIR IN VIETNAM
3 Locations spanning 2 Cities| 𝟲 – 𝟵 𝗠𝗮𝗿𝗰𝗵 𝟮𝟬𝟮𝟰
SECC, 799 Nguyen Van Linh, Tan Phu, District 7, Ho Chi Minh City, Vietnam
White Palace, 588 Pham Van Dong, Hiep Binh Chanh, Thu Duc District, Ho Chi Minh City, Vietnam
WTC, Thu Dau Mot, Binh Duong Province, Viet Nam
Hotline: +84 987 980 859 | [email protected]
Website: www.hawaexpo.com/
Follow fanpage or download HawaExpo app for the latest news: https://www.facebook.com/hawaexpo