Simplify your visit to the HawaExpo 2024 with our Online Brochure Furniture Fair. Discover what a brochure is, why it's crucial for maximizing your experience at events like these, and how our E-Brochure for HawaExpo 2024 Furniture Fair can enhance your fair experience.
What is Brochure/E-Brochure Furniture Fair?
A brochure is a type of advertising material that typically includes general information about specific products, events, popular travel destinations, images, or any content that designers or brochure providers want to convey to their intended audience, often seen as their target customers.
An E-Brochure is an electronic version of a brochure. With an E-Brochure, you can incorporate captivating animations and vibrant audio, making it easier to convey the message within the brochure
A Brochure or E-Brochure Furniture Fair is a promotional document or electronic version of a promotional document that provides information about a furniture fair.
Brochures Furniture Fair are used to advertise and provide essential information to potential attendees, exhibitors, and participants of the furniture fair. E-Brochures, being electronic, often include interactive elements like animations, videos, and hyperlinks to enhance the user experience and provide more detailed information about the fair.
It typically includes details about the fair such as dates, venue, exhibitors, featured products, and other relevant information.
The importance of Brochure Furniture Fair
The importance of a Brochure for a Furniture Fair lies in its ability to effectively communicate essential information about the event to potential attendees, exhibitors, and participants. Here are some key reasons why brochures are crucial for furniture fairs:
Information Dissemination: Brochure Furniture Fair serves as a centralized source of information, providing details about the fair's date, location, theme, exhibitors, and featured products. This information helps attendees plan their visit and exhibitors prepare for their participation.
Promotion and Marketing: Brochure are valuable marketing tools. They showcase the fair's unique selling points, highlights, and any special events or promotions. This helps generate interest and attract a wider audience.
Professionalism: A well-designed brochure Furniture Fair conveys a sense of professionalism and credibility. It reflects positively on the fair's organizers and can influence potential participants' decisions to attend or exhibit.
Accessibility: Brochures can be distributed physically at various locations, such as industry events, furniture stores, and related businesses. They can also be easily shared digitally through email, websites, and social media, ensuring broad accessibility.
Comprehensive Overview: Brochures often include floor plans, exhibitor lists, and schedules, offering attendees a comprehensive overview of what to expect at the fair. This aids in navigation and planning their visit.
Visual Appeal: Incorporating visually appealing design elements and high-quality images in brochures can capture the attention of the audience and leave a lasting impression.
Engagement: In the case of E-Brochures, interactive elements like animations, videos, and links can engage the audience more effectively, providing an immersive experience
HawaExpo 2024 English online Brochure
This 6-page Online brochure furniture fair lays out essential information about the event and its offerings.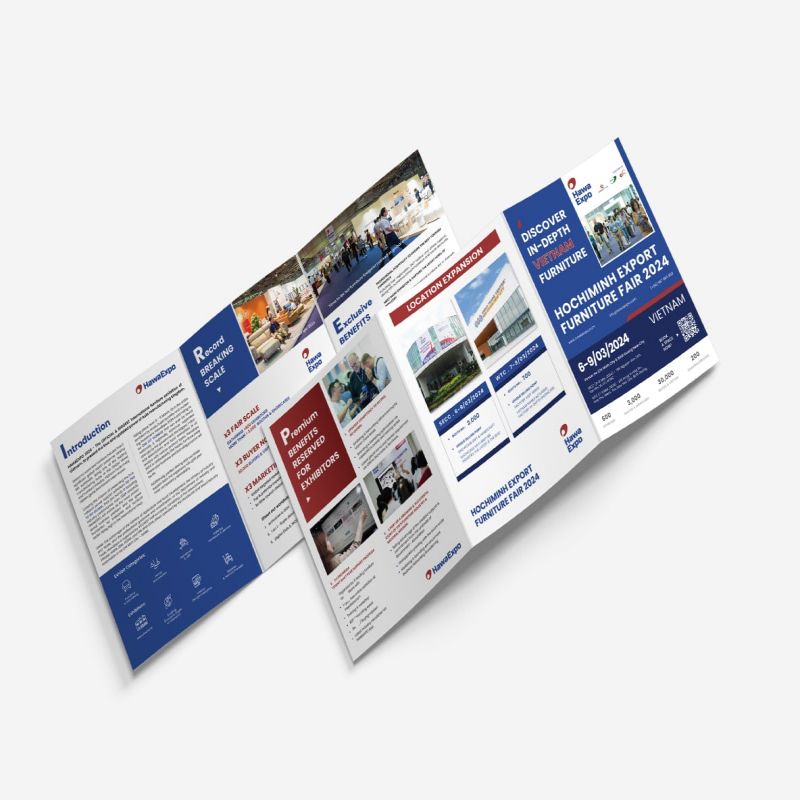 HawaExpo 2024's brochure highlights its three key areas – Connect Hall for furniture supply chain companies, Create Hall for interior design, and Craft Hall for manufacturers. The expo aims for global success, tripling its fair scale, buyer base and marketing reach.
Exhibitors get premium benefits and a one-year support program while buyers enjoy exclusive perks, professional hospitality, networking, and industry updates. The fair represents the trending success of Vietnam's furniture industry.
All in all, this brochure serves as a preliminary guide to what you can expect at HawaExpo 2024. For more detailed information, you can access the HawaExpo 2024 Brochure here. It's your key to comprehensive insights and everything you need to know about this exciting event.
Conclusion:
In conclusion, the "Brochure Furniture Fair of HawaExpo 2024" is your gateway to an exceptional event showcasing the best in the furniture industry.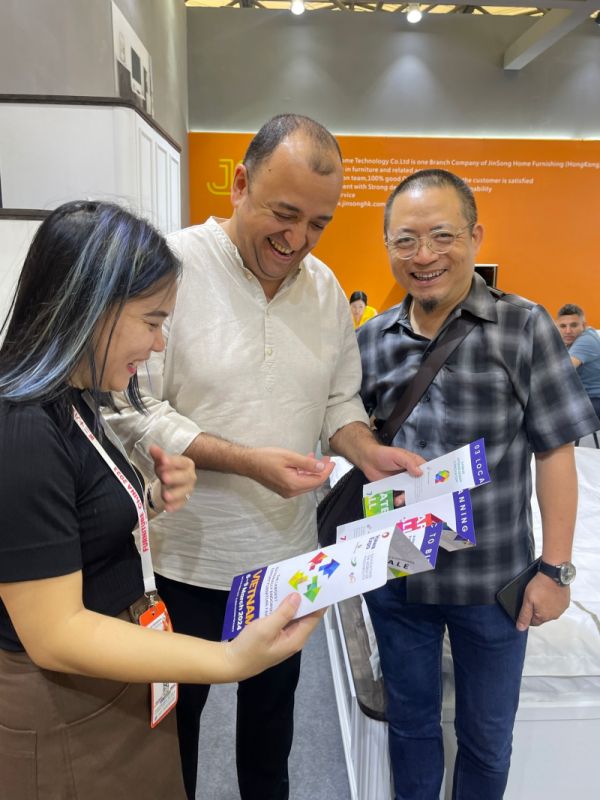 As you prepare to attend the next HawaExpo, we strongly encourage you to download and explore our E-Brochure. It's a valuable resource that will enhance your experience, providing you with in-depth information, insights, and a comprehensive guide to make the most of this remarkable event.
Don't miss out on the opportunity to stay informed and ahead of the trends in the world of furniture. Download the Online Brochure today and get ready for an extraordinary experience at HawaExpo
Book A Space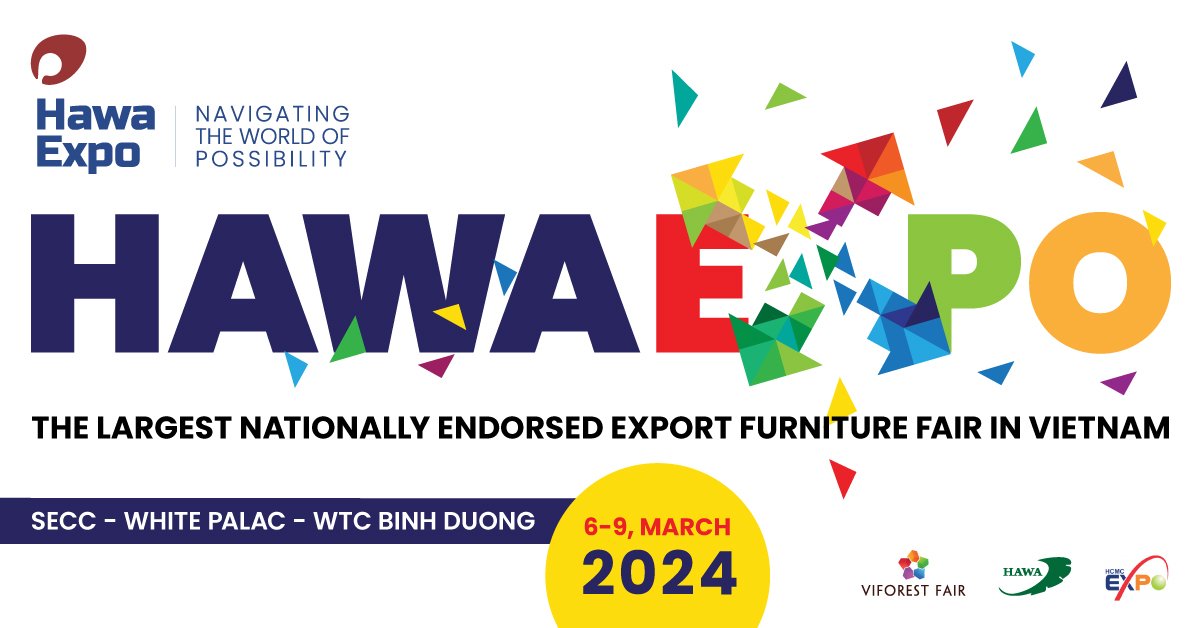 HAWAEXPO 2024 – THE LARGEST NATIONALLY ENDORSED EXPORT FURNITURE FAIR IN VIETNAM
3 Locations spanning 2 Cities| 𝟲 – 𝟵 𝗠𝗮𝗿𝗰𝗵 𝟮𝟬𝟮𝟰
SECC, 799 Nguyen Van Linh, Tan Phu, District 7, Ho Chi Minh City, Vietnam
White Palace, 588 Pham Van Dong, Hiep Binh Chanh, Thu Duc District, Ho Chi Minh City, Vietnam
WTC, Thu Dau Mot, Binh Duong Province, Viet Nam
Hotline: +84 987 980 859 | [email protected]
Website: www.hawaexpo.com/
Follow fanpage or download HawaExpo app for the latest news: https://www.facebook.com/hawaexpo