As you venture into the realm of furniture and furniture manufacturing in Vietnam, you'll find yourself immersed in a world of creativity, innovation, and uncompromising quality. Vietnam's furniture market is currently experiencing a surge in growth, seamlessly blending the time-honored craftsmanship of artisans with cutting-edge technology.
To harness the immense potential offered by this market, we strongly recommend that global buyers and investors explore the Vietnam furniture market actively by participating in exhibitions and events.
One standout event in this domain is HawaExpo 2024, Vietnam's largest furniture exhibition, which we will delve into in this article. Join us as we embark on a journey to discover and make the most of Vietnam furniture resources, guided by the exciting approaches detailed below.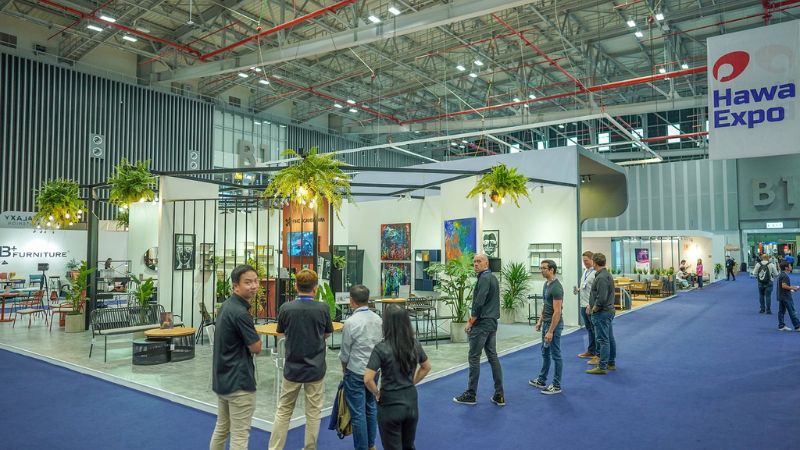 How to find Vietnam Furniture Resources?
Looking to tap into the vibrant Vietnam furniture market but unsure of where to begin? Worry not! Here's your comprehensive guide on how to discover and connect with the top furniture resources in Vietnam. From online directories, trade fairs, to local stores, networking avenues, and savvy online research, we've got you covered. Dive in to unlock the best of what the Vietnam furniture industry has to offer.
Online Directories and Marketplaces: Start your search by exploring reputable online directories and marketplaces specializing in Vietnam furniture. Websites like Alibaba, VietnamTrade, and VietnamExport are great platforms to find a wide range of furniture suppliers and manufacturers.
Furniture Fairs and Exhibitions: Attend furniture fairs and exhibitions held in Vietnam, such as HawaExpo 2024 – The largest nationally endorsed export furniture fair in Vietnam, which showcase the latest trends and connect you with industry experts and manufacturers. These events are excellent opportunities to see the furniture firsthand and establish direct contacts.
Local Furniture Stores: Explore local furniture showrooms and shops in Vietnam, particularly in bustling cities like Ho Chi Minh City and Hanoi. These establishments are valuable Vietnam Furniture Resources as they frequently stock items crafted by local manufacturers, offering a chance to discover distinctive pieces that may not be easily accessible through online channels.
Networking: Utilize your professional network and participate in industry-related gatherings, both within Vietnam and your home nation. Cultivating connections with experts and fellow enthusiasts can open doors to valuable Vietnam Furniture Resources and may result in valuable suggestions and collaborative ventures.
Online Research: Perform comprehensive online research by exploring reviews, articles, and blogs pertaining to Vietnam furniture. Seek out forums or communities where individuals exchange insights and offer advice, thus uncovering valuable Vietnam Furniture Resources.
Vietnam's Wooden and Furniture Industry Exhibitions
One prevalent method of discovering Vietnam Furniture Resources is by attending exhibitions. Vietnam boasts a thriving wood and furniture industry, hosting numerous annual exhibitions featuring prominent furniture manufacturers.
These events serve as platforms for showcasing impressive interior products, introducing new materials and design collections, showcasing cutting-edge production technology, and seeking potential customers and partners. A notable furniture exhibition, considered the largest nationally endorsed export furniture fair in Vietnam.
HawaExpo 2024 – The Largest Furniture Fair in Vietnam
HawaExpo 2024 serves as a premier platform for showcasing impressive interior products, introducing new material collections, and presenting cutting-edge design concepts. The exhibition also emphasizes advanced manufacturing technologies, offering opportunities to connect with potential customers and partners.
Featuring over 700 exhibitors, including 50% new participants and renowned Made-in-Vietnam manufacturers, HawaExpo 2024 provides a comprehensive display of furniture excellence.
Visitors can explore more than 3,000 booths and showcases spread across an extensive 56,000 square meters of exhibition space.
Drawing a diverse crowd of 30,000 buyers and visitors from 200 countries and regions, this event occurs at the ideal time, right in the heart of the Asia Furniture Fair Chain. It's the perfect place to discover valuable Vietnam furniture resources and connect with the industry's best.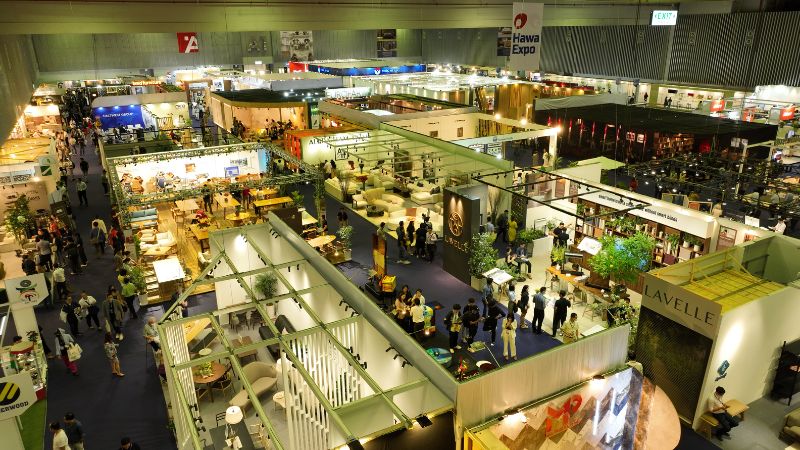 Conclusion
The Vietnam furniture market, with its rich blend of craftsmanship, innovation, and quality, is a treasure trove waiting to be discovered. To tap into the vast potential it holds, we strongly encourage global buyers and investors to actively engage with the Vietnam furniture market.
One of the most effective ways to do so is by attending exhibitions and trade fairs like HawaExpo 2024. These events serve as gateways to the world of Vietnam Furniture Resources, providing invaluable insights, connections, and opportunities. So, take the first step towards unlocking the full potential of the Vietnam furniture industry by participating in these exhibitions.
Your journey to exploring the exceptional offerings of Vietnam's furniture market begins here. Don't miss out on this chance to be part of an industry that is poised for remarkable growth. Join us at HawaExpo 2024 and let us help you navigate the path to success in the world of Vietnam Furniture Resources.
Register for visit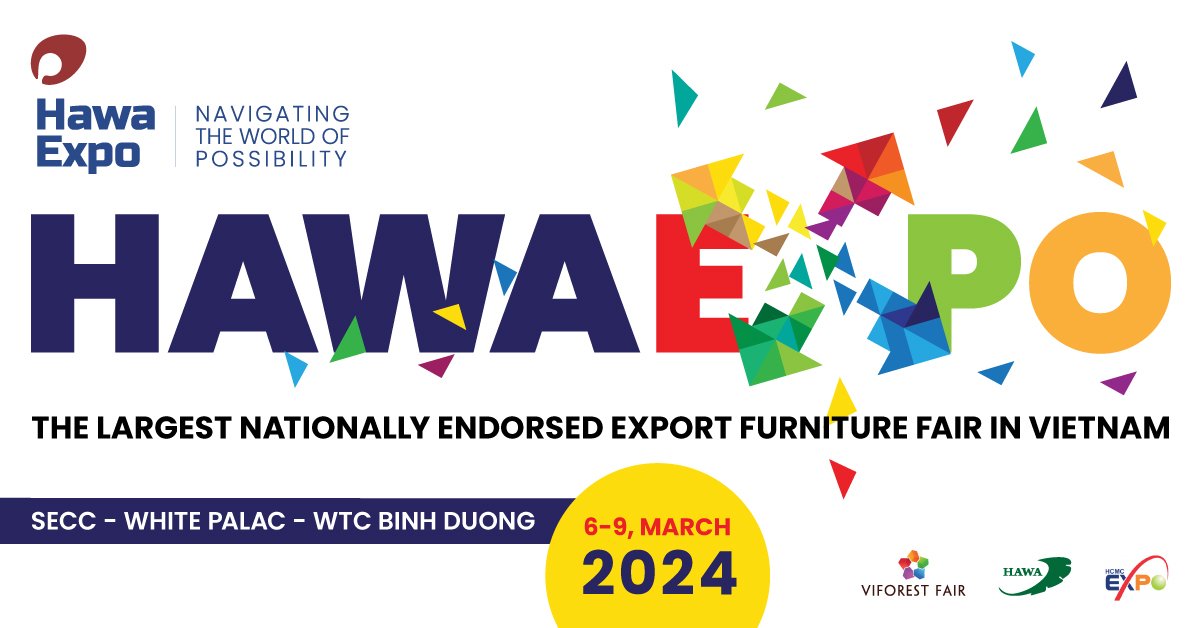 HAWAEXPO 2024 – THE LARGEST NATIONALLY ENDORSED EXPORT FURNITURE FAIR IN VIETNAM
3 Locations spanning 2 Cities| 𝟲 – 𝟵 𝗠𝗮𝗿𝗰𝗵 𝟮𝟬𝟮𝟰
SECC, 799 Nguyen Van Linh, Tan Phu, District 7, Ho Chi Minh City, Vietnam
White Palace, 588 Pham Van Dong, Hiep Binh Chanh, Thu Duc District, Ho Chi Minh City, Vietnam
WTC, Thu Dau Mot, Binh Duong Province, Viet Nam
Hotline: +84 987 980 859 | [email protected]
Website: www.hawaexpo.com/
Follow fanpage or download HawaExpo app for the latest news: https://www.facebook.com/hawaexpo