The initial stop on the promotional roadshow for Vietnam largest furniture fair, HawaExpo 2024, has concluded after a 4-day (24 – 27/8/2023) presence at the KOFURN exhibition in South Korea.
Most buyers responded positively, expressing strong admiration for the unprecedented scale and presence of HawaExpo 2024, Vietnam's largest furniture exhibition. With the goal of effectively reaching partners and customers in the South Korean market throughout the fair, the HawaExpo organizing team conducted various promotional activities during this KOFURN event.
Vietnam largest furniture fair – HawaExpo's Presence at KOFURN in South Korea
HawaExpo 2024 is the largest furniture fair in Vietnam, scheduled to take place from March 6-9, 2024. It is a pivotal event that brings together a vast array of participants from the furniture manufacturing industry. The expo is set to feature over 700 exhibitors, with a significant 50% being new participants, highlighting the dynamic and evolving nature of Vietnam's furniture manufacturing sector.
HawaExpo 2024 aims to attract around 30,000 visitors, including buyers and industry professionals from over 200 countries and regions, creating an unparalleled networking hub. This makes it an ideal meeting point for those looking to explore new trends, forge business relationships, and gain insights into the Asian and global furniture markets. The expo serves as a critical marketplace and cultural showcase, reflecting the vitality and diversity of the furniture industry in Vietnam and across Asia.
Bridging the success of its global outreach and the anticipation of its forthcoming grand event, HawaExpo 2024 stands at the forefront of industry innovation and collaboration. Following the expo's strategic efforts to harness the potential of international markets and to kindle interest among global stakeholders, the journey has been marked by significant milestones – KOFURN exhibition.
The first stop on Vietnam largest furniture fair – HawaExpo's promotional roadshow has concluded after a 4-day presence at the KOFURN exhibition in South Korea.
Images of HawaExpo 2024 at KOFURN exhibition:
What event is KOFURN – Korea International Furniture and Interior Fair?
KOFURN is an annual event organized by the Korea Federation of Furniture Industry Cooperatives (KFFIC), aiming to foster and advance the Korean furniture industry. While its name, "KOFURN," signifies "Korea Furniture," the event draws participants and attendees not only from Korea but also from around the world, including representatives like HawaExpo – Vietnam leading furniture fair.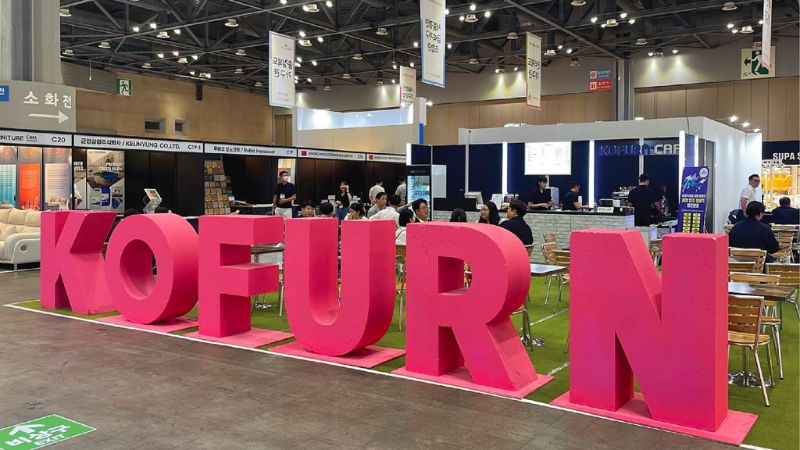 Since its inception in 1981, KOFURN has consistently taken place in Seoul and is renowned as South Korea's largest and most influential furniture exhibition. Typically, it boasts over 300 exhibitors and welcomes more than 50,000 visitors each year. This makes KOFURN 2023 an indispensable gathering for anyone engaged in or passionate about the furniture and interior design sector.
Aside from the core exhibition and trade activities, the KOFURN 2023 Fair has garnered attention for its extensive scale and numerous remarkable showcase areas. These include the Design Pavilion featuring university students, the Buyer Lounge, and various other engaging events. The fair is further enriched by exciting sideline activities like the GAGU design competition and a series of interior design seminars held throughout the event.
Promotional activities of Vietnam largest furniture fair HawaExpo 2024 at KOFURN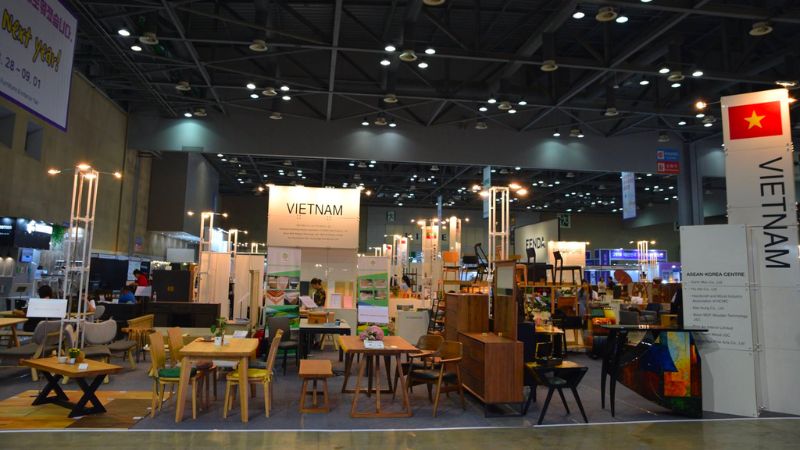 To efficiently reach partners and customers in the South Korean market throughout the exhibition, the Vietnam largest furniture fair HawaExpo organizing team conducted various promotional activities, including:
Access to over 𝟏𝟓𝟕 𝐊𝐎𝐑𝐄𝐀𝐍 𝐈𝐌𝐏𝐎𝐑𝐓𝐄𝐑𝐒 𝐀𝐍𝐃 𝐅𝐎𝐑𝐄𝐈𝐆𝐍 𝐕𝐈𝐒𝐈𝐓𝐎𝐑𝐒 to promote HawaExpo, remarkable new features, and exclusive incentives for Korean and international customers for trade connections.
Introduce the Vietnam's largest export furniture fair with more than 𝟏𝟎𝟎 𝐊𝐎𝐅𝐔𝐑𝐍 𝐄𝐗𝐇𝐈𝐁𝐈𝐓𝐎𝐑𝐒 and strengthen the wood and furniture business community between the two nations.
Meet with 𝐆𝐀𝐆𝐔 𝐌𝐀𝐆𝐀𝐙𝐈𝐍𝐄, KOFURN's media sponsor, to discuss HawaExpo promotion in Korea.
Register for HawaExpo 2024
HawaExpo 2024 isn't just an exhibition; it's a testament to Vietnam's commitment to excellence in furniture making. As the nation asserts itself as a formidable force in the global furniture market.
For those at the forefront of the industry, seeking to stay informed on essential trends and innovative breakthroughs, HawaExpo 2024 – Vietnam's Premier Furniture Export Fair – is indisputably the key event to mark on your calendar.
In conclusion, HawaExpo's successful participation at the KOFURN fair in South Korea, an impressive international platform, marks a significant milestone in its journey to promote and connect with partners and customers worldwide. The enthusiastic response from buyers and the powerful impression created by HawaExpo 2024's grand scale and presence demonstrate the exhibition's growing influence on the global stage.
This first leg of the journey is complete, but it's just the beginning for HawaExpo as it continues on its path towards new horizons and opportunities in the vibrant furniture industry, representing Vietnam largest furniture fair.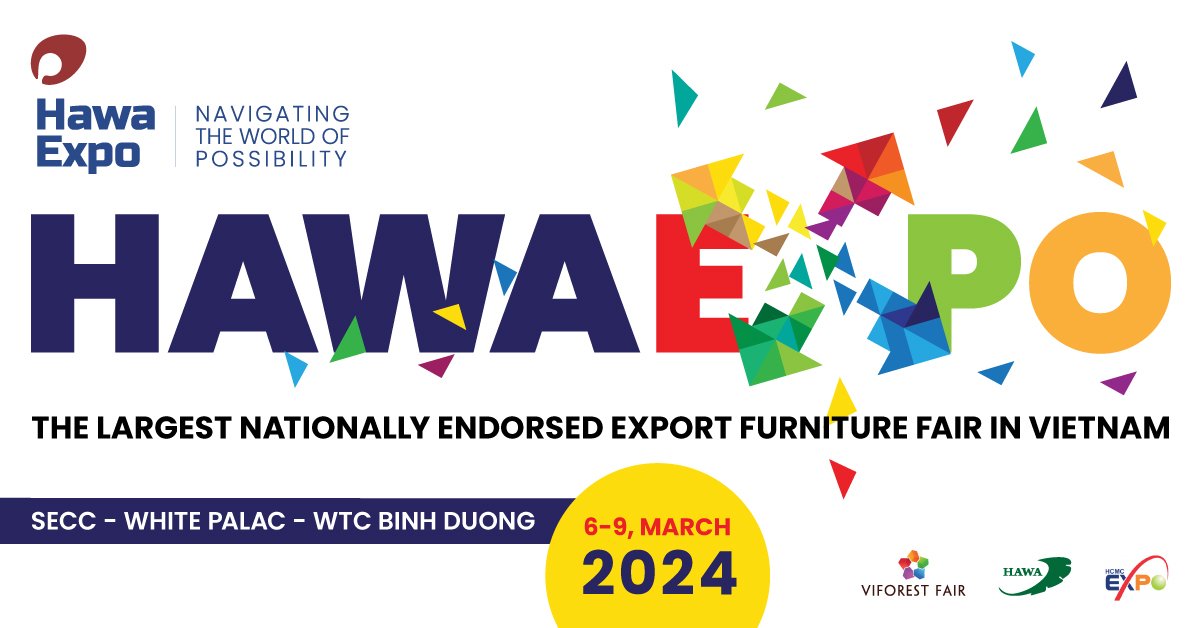 HAWAEXPO 2024 – THE LARGEST NATIONALLY ENDORSED EXPORT FURNITURE FAIR IN VIETNAM
3 Locations spanning 2 Cities| 𝟲 – 𝟵 𝗠𝗮𝗿𝗰𝗵 𝟮𝟬𝟮𝟰
SECC, 799 Nguyen Van Linh, Tan Phu, District 7, Ho Chi Minh City, Vietnam
White Palace, 588 Pham Van Dong, Hiep Binh Chanh, Thu Duc District, Ho Chi Minh City, Vietnam
WTC, Thu Dau Mot, Binh Duong Province, Viet Nam
Hotline: +84 987 980 859 | [email protected]
Website: www.hawaexpo.com/
Follow fanpage or download HawaExpo app for the latest news: https://www.facebook.com/hawaexpo