Within the framework of the Maison & Objet Furniture and Handicraft Exhibition in Paris 2023 (abbreviated as M&O Paris), the HCMC Pavilion Clusters, coordinated by ITPC in partnership with the Ho Chi Minh City Handicraft and Wood Industry Association (HAWA)/HAWA Vietnam, has garnered significant attention from numerous visitors, including various businesses, French importers, and international stakeholders. So, what makes the Maison & Objet event stand out, and how has HawaExpo succeeded in engaging with international buyers, signaling the upcoming prominence of Furniture Expo 2024? Let's delve into it.
Vietnam Furniture Expo 2024 (HawaExpo) Makes a Mark at Maison & Objet – Paris 2023
The M&O Paris Exhibition is a world-renowned showcase for lifestyle, interior design, and home decor items, as well as fashion accessories, essential oils, fragrances, and more. Founded in 1995, the exhibition takes place biannually, in January and September. Since its inception, it has consistently received positive recognition and high ratings from professionals in the fields of architecture, interior design, and home goods.
In the January 2023 installment, M&O Paris attracted more than 2.500 exhibiting brands from 60 countries and drew 67.429 trade visitors from over 147 countries. Consequently, this event offers a tremendous opportunity for Vietnamese furniture and handicraft manufacturers to promote their products, establish trade connections, and expand their export markets.
Specifically, HawaExpo 2024 – the largest nationally endorsed export furniture fair in Vietnam – marked its presence emphatically in M&O Paris with a at the HCMC Pavilion Clusters substantial 300-square-meter. This space was shared by 23 eminent businesses, including 11 members of HAWA, all specializing in the manufacturing and trade of furniture and handicrafts. Through engaging presentations and dynamic introductions, the participants not only showcased the Vietnam Furniture Expo 2024 but also strategically leveraged this platform to extend HawaExpo's influence into the French market, a key export destination for Vietnamese wood and furniture products.
HawaExpo 2024 – The Largest Nationally Endorsed Export Furniture Fair In Vietnam
HawaExpo 2024, slated for 6-9 March, is the largest nationally endorsed export furniture fair in Vietnam and a significant fixture for global trade, showcasing the nation's burgeoning industry. Hosting 700 businesses and expecting 30.000 buyers, the event spans three venues in Ho Chi Minh City and Binh Duong, fostering a chain-system exhibition platform. Specifically as:
Connect Hall (SECC, Ho Chi Minh City; 6-9 March): Central hub for global industry networking, unveiling Vietnam's extensive furniture export capabilities, with international pavilions and industry leaders showcasing innovations and trends.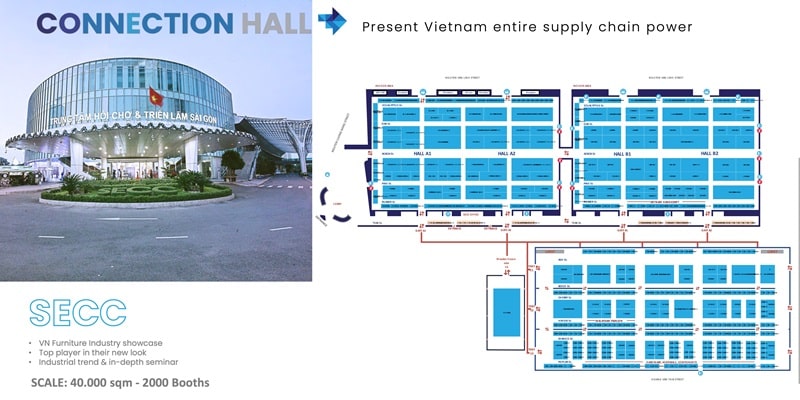 Create Hall (White Palace, Ho Chi Minh City; 7-9 March): Emphasizes interior design with a focus on innovation, featuring design awards, hospitality sector spotlights, and avant-garde furniture showcases.
Craft Hall (WTC Expo, Binh Duong; 7-9 March): Highlights Vietnam's manufacturing prowess, offering direct manufacturer access and immersive factory tours, narrating the production story of Vietnamese furniture.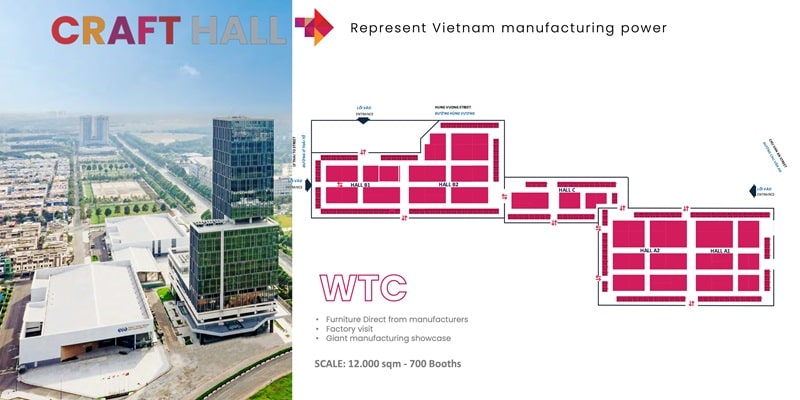 The expo aims to elevate the Vietnam Wood & Furniture Industry, targeting an export goal of $20 billion by 2025, and introduces Furniture Design and Hospitality Contractors to the mix for a comprehensive industry overview.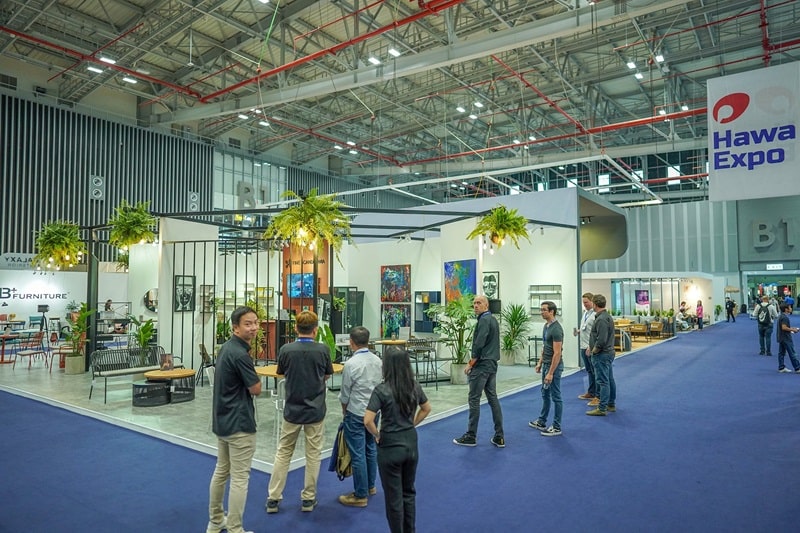 Against this backdrop, exhibitors at HawaExpo 2024 can capitalize on three main advantages:
Professional Development: Enhance skills and global business presence through exclusive Master Classes on essential topics such as exhibition display, networking, and marketing, supplemented by brand marketing support for increased industry recognition and seminars to keep abreast of global standards.
Hybrid Exhibition Opportunity: Benefit from a combined physical (6-9 March 2024) and year-round online exhibition, with a dedicated virtual platform on Hopefairs.com to continually showcase products, supported by HawaExpo's promotional efforts.
Extended Support Program: Gain access to a year-long support program that includes continuous B2B activities, complimentary training and seminars, B2B matching with trade delegations, and resources such as industrial research, expert interviews, and professional news via the HawaExpo App. This initiative aims to integrate exhibitors into Vietnam's robust and sustainable wood industry community.
HawaExpo 2024, the largest nationally endorsed export furniture fair in Vietnam, has marked its presence triumphantly at Maison & Objet – Paris 2023, one of the grandest furniture showcases in the world. This pivotal event has played a key role in reinforcing Vietnam's ascending status in the global furniture sector. Leveraging the event's strategic benefits, Vietnam Furniture Expo 2024 is set to draw in an extensive network of international purchasers, thereby serving as a pivotal gateway for featuring Vietnam's exemplary furniture offerings on an international scale.
Seize the chance to be part of HawaExpo 2024 and experience the unique advantages that only this leading event can offer!
Book A Space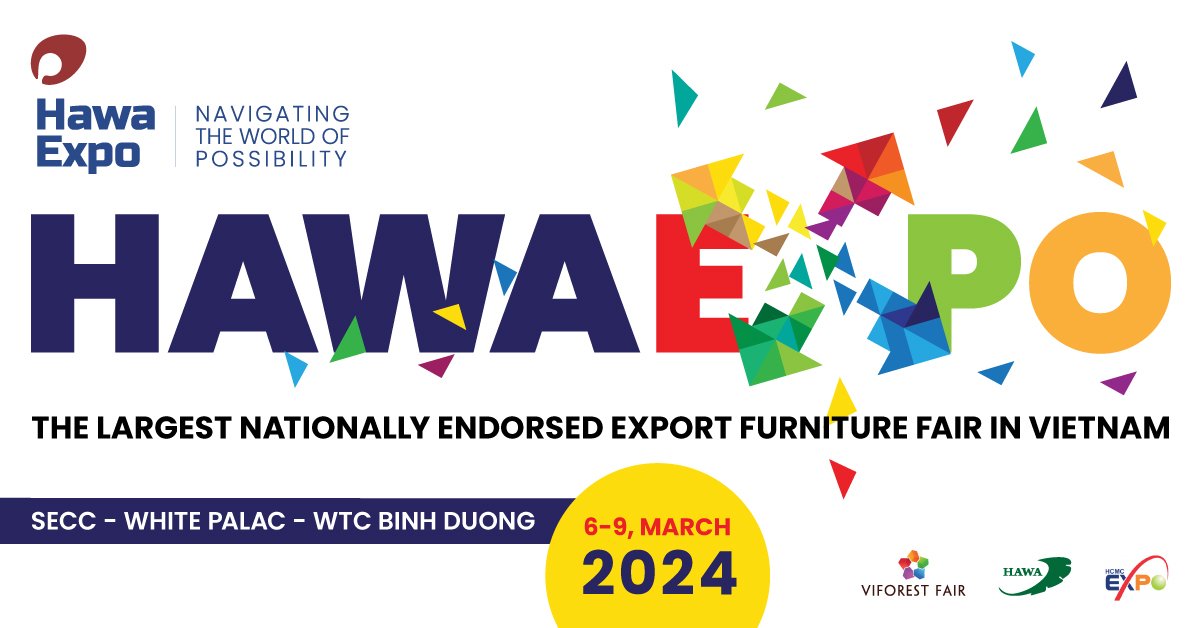 HAWAEXPO 2024 – THE LARGEST NATIONALLY ENDORSED EXPORT FURNITURE FAIR IN VIETNAM
3 Locations spanning 2 Cities| 𝟲 – 𝟵 𝗠𝗮𝗿𝗰𝗵 𝟮𝟬𝟮𝟰
SECC, 799 Nguyen Van Linh, Tan Phu, District 7, Ho Chi Minh City, Vietnam
White Palace, 588 Pham Van Dong, Hiep Binh Chanh, Thu Duc District, Ho Chi Minh City, Vietnam
WTC, Thu Dau Mot, Binh Duong Province, Viet Nam
Hotline: +84 987 980 859 | [email protected]
Website: www.hawaexpo.com/
Follow fanpage or download HawaExpo app for the latest news: https://www.facebook.com/hawaexpo