If you're seeking insights into trade exhibition fairs that showcase interior furniture and home decoration products from Vietnam, you've come to the right place. In this article, we'll explore the distinctive aspects of HawaExpo 2024, recognized as the foremost Vietnam Furniture & Home Furnishing Fair and delve into the notable features of the Vietnam Furniture & Home Furnishings Fair, providing you with valuable information about this vibrant event.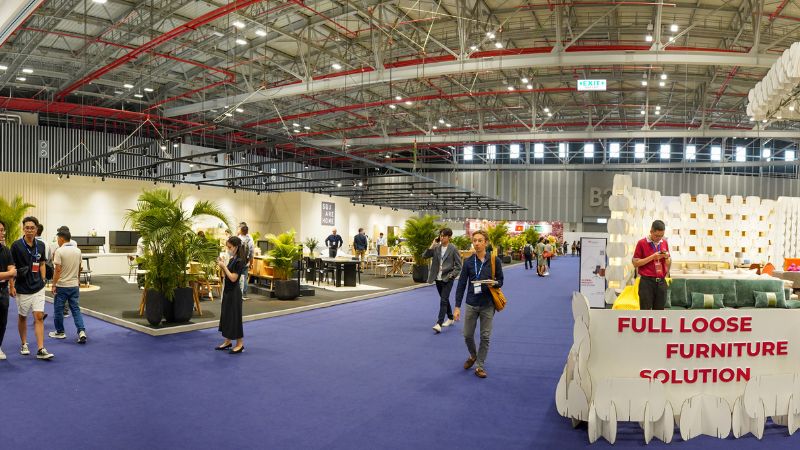 Overview of the Vietnam Furniture & Home Furnishing Fair
The Vietnamese furniture market has demonstrated immense potential for growth with the presence of nearly all major global furniture brands.
With over 10,000 businesses related to furniture and robust growth figures in furniture production value, wood exports, and crafts, Vietnam has taken significant strides in this sector.
This reflects a dynamic progression that plays a crucial role in the creative economy, closely interwoven with culture, art, and technology.
Notably, events like the Vietnam Furniture & Home Furnishing Fair further highlight the importance and capabilities of the industry on the global stage.
Importance of the fair in the furniture and home furnishings industry
The importance of a fair, such as the Vietnam Furniture & Home Furnishing Fair, in the furniture and home furnishings industry is manifold:
Networking Opportunities: Such fairs bring together industry professionals, including manufacturers, suppliers, distributors, and buyers, offering them an invaluable opportunity to connect, share insights, and potentially form partnerships.
Showcasing Innovations: Exhibitors can display their latest products, designs, and technologies. This helps businesses showcase their capabilities and differentiate themselves in a crowded market.
Market Insights: Fairs are excellent places to gauge market trends and demands. Exhibitors can receive direct feedback on their products, and attendees can identify emerging trends in design and consumer preferences.
Educational Opportunities: Fairs often host seminars, workshops, and talks from industry experts. These sessions are instrumental in disseminating the latest industry knowledge, research findings, and best practices.
Global Exposure: Such fairs often have international attendees. This global exposure can open doors for businesses to export markets and offer insights into global market demands.
Boosting Local Economy: Such events, especially if they attract international attendees, contribute significantly to the local economy, from the hospitality sector to local artisans who may find new customers for their products.
Fairs like the Vietnam Furniture & Home Furnishing Fair play a pivotal role in driving the furniture and home furnishings industry forward, fostering innovation, facilitating business growth, and emphasizing sustainability and global collaboration.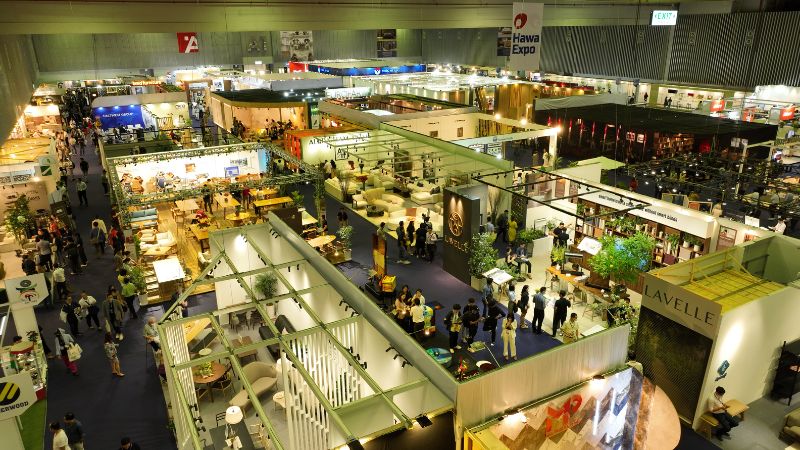 HawaExpo 2024 – the leading Vietnam Furniture & Home Furnishing Fair
HawaExpo 2024 stands as the leading Vietnam Furniture & Home Furnishing Fair, marking a significant milestone in the industry.
Poised to be the largest wood and furniture exhibition ever held, this prestigious event is slated for March 2024.
From March 6th to 9th, 2024, the HawaExpo 2024, a dedicated furniture export exposition, will unfold, marking its significance on the international trade agenda. Proudly recognized as Vietnam's grandest furniture trade exhibition, it underscores the nation's escalating influence in the sector.
Unveiling a groundbreaking exhibit approach, HawaExpo 2024 is gearing up for a massive showcase, set to feature nearly 700 enterprises, predominantly local producers, and is projected to attract upwards of 30,000 purchasers. Spanning three distinct venues: Connect, Create & Craft Halls in both Ho Chi Minh City and Binh Duong, the event aspires to furnish a vibrant stage for all attendees.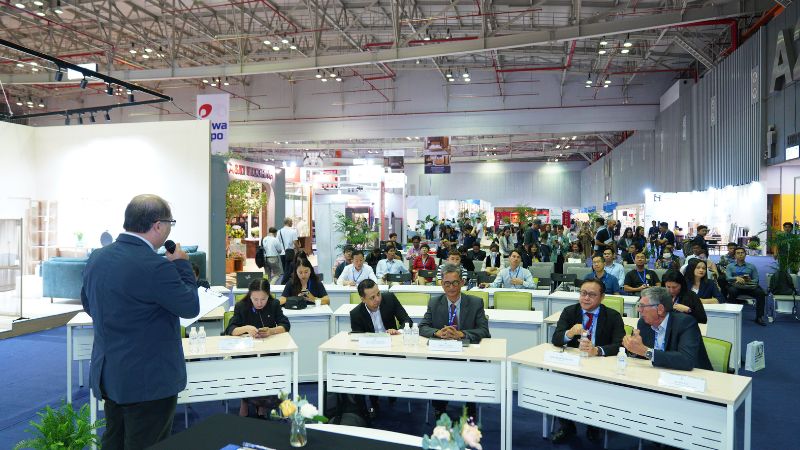 The Networking Opportunities and Industry Connections at Vietnam Furniture & Home Furnishings Fair
The Vietnam Furniture & Home Furnishings Fair stands as a notable event in the furniture industry landscape. Beyond its exhibits and showcases, it offers genuine value through networking opportunities and industry connections.
For professionals and enthusiasts alike, it's a platform to meet, share insights, and potentially collaborate. In the ever-evolving world of furniture and home decor, the fair provides a space for meaningful interactions and growth.
Facilitating connections among industry professionals at HawaExpo 2024
At the heart of the thriving Vietnamese furniture and home furnishing scene lies the anticipated HawaExpo 2024, an event expertly designed to propel industry professionals towards enhanced competency and global recognition.
1. Upgrade Competency to Go Pro, Go Global: Stepping into the global arena demands expertise, and HawaExpo provides the right tools for it. With the Master Class by Industrial Master, participants can refine vital skills ranging from exhibition display to branding, ensuring a competitive edge.
The Expo's dedicated brand marketing support aids businesses in carving a niche in this bustling market. Moreover, the Global Meet-up seminars keep participants aligned with global benchmarks, touching upon crucial aspects like design, online strategies, sustainability, and ESG standards.
2. Hybrid Exhibition 365 Days, By Our Ecosystem: The future of exhibitions is hybrid, and HawaExpo 2024 is at the forefront of this evolution. While participants can experience the vibrant 4-day live exhibition from 6th to 9th March 2024, the engagement doesn't stop there.
The 365-day online virtual exhibition on Hopefairs.com, bolstered by HawaExpo's unwavering promotional support, ensures that brands maintain a persistent and dynamic online presence all year round.
3. 1 + 1 Program: This unique initiative offers a holistic experience – a comprehensive exhibition coupled with a year's worth of support. As part of Vietnam's most robust wood community, participants gain access to B2B activities, specialized training sessions, and matchmaking opportunities with national trade delegations. And to keep one's finger on the industry's pulse, the HawaExpo App offers invaluable insights through the latest research, expert interviews, and timely news.
In essence, HawaExpo 2024 isn't just an event; it's a journey of growth, connections, and global outreach for every industry professional.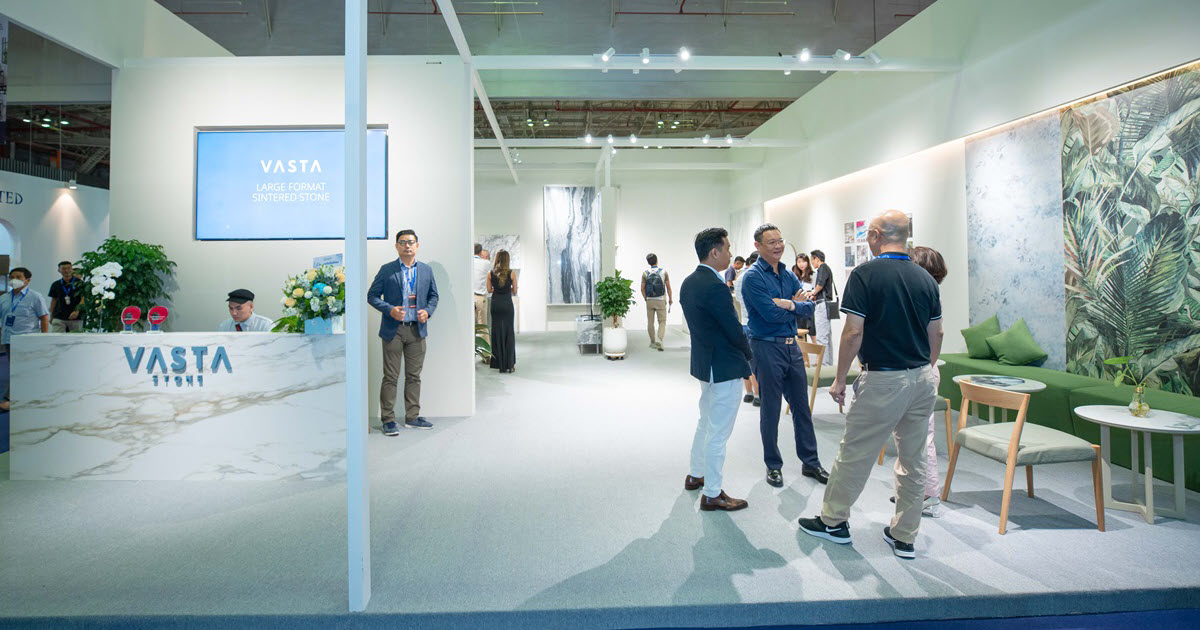 Opportunities for business collaborations and partnerships
At HawaExpo 2024, the leading fair offers a panoramic view of the industry through boundaryless exploration across three bespoke locations, tailored to cater to specific demands.
HawaExpo 2024 is meticulously crafted to provide optimal benefits for its participants.
For the exhibitors, it's a gateway to a diverse mix of both local and global stakeholders. Beyond being an essential hub for international manufacturers in Vietnam to pinpoint and connect with potential customers, it also acts as a springboard for brands aiming for elevated market visibility.
The expo's layout amplifies the chances of creating partnerships and tapping into new market niches. Plus, the tailored networking segments with industry pioneers provide avenues to refine business approaches, diversify product offerings, and steer market direction.
For the buyers, HawaExpo 2024 presents a realm brimming with possibilities and new finds. Visitors will be met with a handpicked showcase of the freshest trends in furniture artistry and design.
The expo's architecture is designed for optimal engagement, empowering buyers to cultivate relationships, spot up-and-coming trends, and forge impactful collaborations. Here are the unique benefits that both exhibitors and purchasers can expect.
Export Potential and International Reach
HawaExpo 2024, recognized as the premier Vietnam Furniture & Home Furnishing Fair, holds the distinction of being Vietnam's foremost B2B platform for the export of furniture and wooden goods. This eminent event not only showcases Vietnam's finest in furniture, wooden items, home decorations, and handicrafts but also acts as the epicenter for global manufacturers and buyers to converge. Moreover, it offers a launchpad for Vietnamese furniture producers to introduce their creations to the global stage.
Conclusion
Are you ready to immerse yourself in the epicenter of innovation, craftsmanship, and business opportunities in the furniture and home furnishings sector?
Whether you're a seasoned industry veteran or a budding professional, the Vietnam Furniture & Home Furnishing Fair offers a wealth of knowledge, networking, and business prospects. It's not just a fair; it's a journey of discovery, connections, and growth.
Register for visit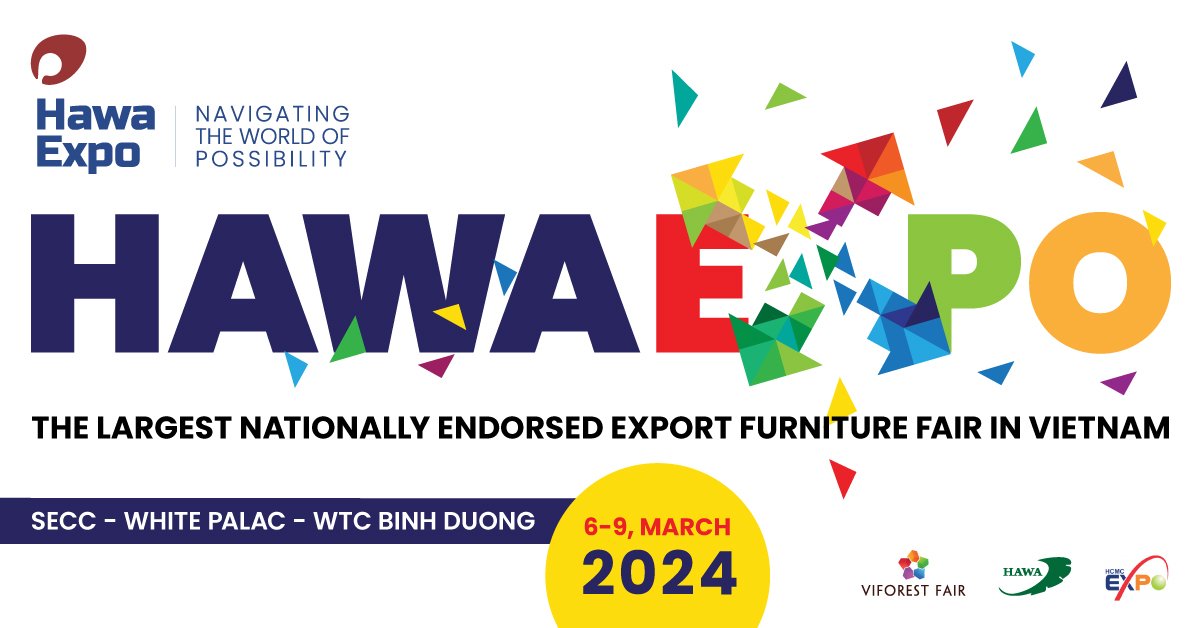 HAWAEXPO 2024 – THE LARGEST NATIONALLY ENDORSED EXPORT FURNITURE FAIR IN VIETNAM
3 Locations spanning 2 Cities| 𝟲 – 𝟵 𝗠𝗮𝗿𝗰𝗵 𝟮𝟬𝟮𝟰
SECC, 799 Nguyen Van Linh, Tan Phu, District 7, Ho Chi Minh City, Vietnam
White Palace, 588 Pham Van Dong, Hiep Binh Chanh, Thu Duc District, Ho Chi Minh City, Vietnam
WTC, Thu Dau Mot, Binh Duong Province, Viet Nam
Hotline: +84 987 980 859 | [email protected]
Website: www.hawaexpo.com/
Follow fanpage or download HawaExpo app for the latest news: https://www.facebook.com/hawaexpo